Virtual Event
Adopting a Shared Cloud Security Model for AWS
July 23, 2020 @ 12:00 PM

-

1:00 PM

Virtual Event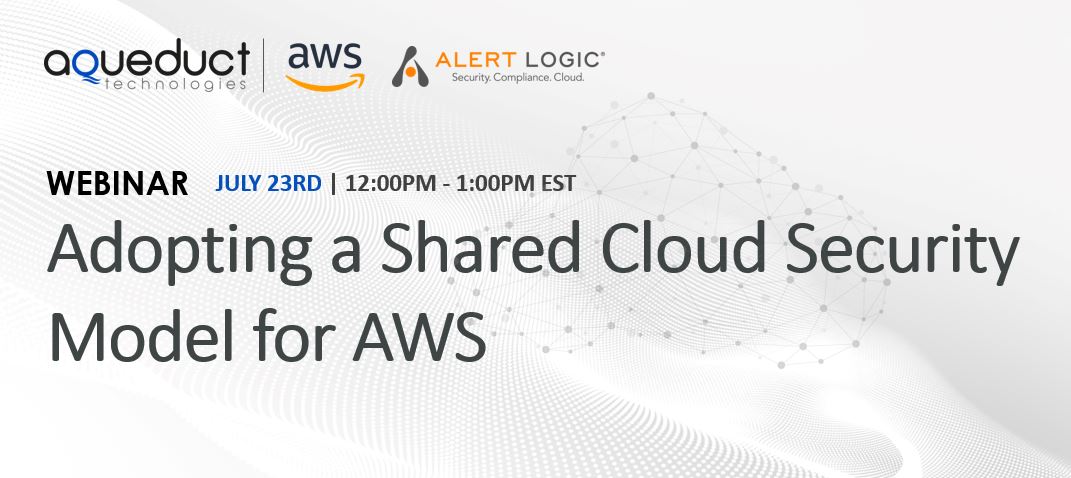 Date and Time:
Thursday, July 23, 2020 12:00 pm
Eastern Daylight Time (New York, GMT-04:00)
Register Here
Panelist(s) Info:

Dan Webb, Alert Logic VP – Partner Sales & Alliances

Claudine Morales, AWS Partner Solutions Architect

Rick Beaupre, Aqueduct Technologies Solutions Architect

Duration:
1 hour
Description of Event:

As more and more organizations move to the cloud, they are faced with increased risk due to potential vulnerabilities that come with the cloud's larger attack surface. Some organizations are reluctant to adapt to the cloud model because they struggle to provide the same security policies and controls that they have on their traditional on-premise infrastructure. Even customers who have made the shift often overlook areas from a security perspective that open them up to potential exploitation from cyber-criminals.

To fully protect your organization, you must understand which parts of the cloud you and your service provider are responsible for and, based on that, build a plan for how you'll protect your business and users.

Aqueduct Technologies can help guide you in this process and augment your security efforts using third-party security services like Alert Logic. Alert Logic seamlessly connects a cloud-native security platform, cutting-edge threat intelligence, and expert defenders—to provide the best security and peace of mind for businesses 24/7, regardless of their size or technology environment.

In this webinar, we'll cover:

The evolving attack surface in the cloud
Defining the Shared Cloud Security Model and where responsibility lies
How to correctly deploy and maintain the security of your AWS environment
Applying AWS credits for custom solutions in the Private Offers Marketplace

Following the session, attendees will receive a Grubhub gift card to enjoy lunch on us!